Title: Seasons of Wither
Author(s):
lady_yashka
Artist:
lightthesparks
Crossover: Buffy the Vampire Slayer
Disclaimer: I do not own either Buffy the Vampire Slayer or Supernatural.
Type: Het
Word Count: 19,565
Characters/Pairings: Buffy/Michael, Dean, Sam, Castiel, Bobby, Gabriel, Zachariah, Lucifer, Willow, Dawn, Faith, Xander, and Giles
Warnings: Character death
Spoilers: Spoilers through My Bloody Valentine. Some dialogue from various episodes is also used.
Summary:The war is over, and with the help of the slayers, the world is safe once more. Now, three months later the man Buffy only knew as the archangel Michael, is waking up.
Author's Notes:First off I'd like to thank both
moragmacpherson and
aj_hofacre for all their help. Any mistakes left are all mine. I'd also like to thank
lightthesparks for her wonderful artwork. And finally, I'd like to thank the mods of
sncross_bigbang for hosting this challenge.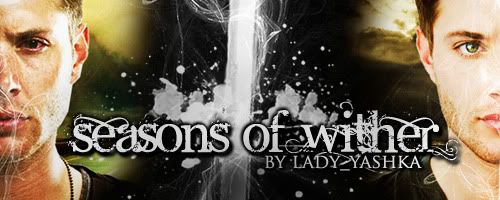 Link to Story Master Post:
(Chapter One)
(Chapter Two)
(Chapter Three)
(Chapter Four)
(Chapter Five)
(Chapter Six)
(Chapter Seven)
(Chapter Eight)
(Chapter Nine)
(Chapter Ten)
(Epilogue)
Link to Art Master Post:
Artwork Here